Blue Line Nylon Braided Hose
Blue Line Nylon Braided Hose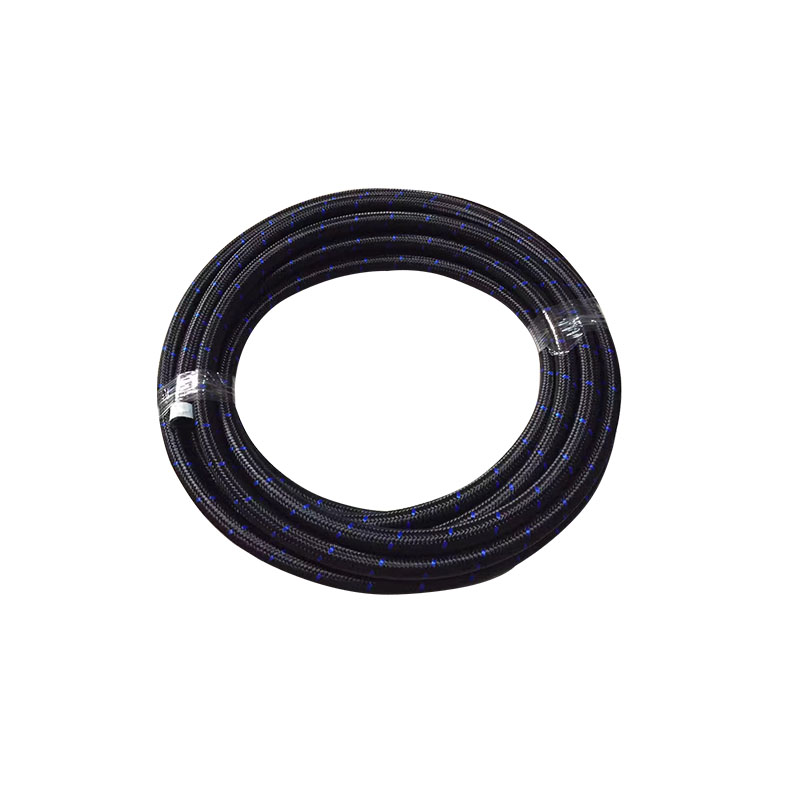 Blue Line Nylon Braided Hose
BJR is professional factory, manufacture high precision hoses for more than 10 years, we offer best performance parts for your loved modified cars!
| | |
| --- | --- |
| Inner Material: | CPE synthetic rubber |
| Outer Material: | black Nylon with Blue Line |
| Size: | AN4 to AN20 |
| Temperature: | -40℃ to 150℃ |
| Pressure: | 2000PSI |
| Usage: | Tuning Parts, Oil, e85, Fuel Line |
BJR Performance Blue Line Nylon Braided Hose
BJR Performance is a Manufacturer & Supplier for Racing Parts in China. We produce kinds of fuel hoses in various styles, S.S Braided Hose, Nylon Braided Hose, S.S Braided PTFE Hose, Push Lock Hose.
Nylon fiber and stainless steel braid cover for excellent flexibility and resistance to abrasion. Outer nylon braided has excellent inflaming and safer to use.
If you need something that is lightweight, Nylon braided lightweight hose is available.
The braided nylon outer shield protects the hose when it rubs on the engine or other car parts, inner core is stainless steel. It is safe in temperatures from -40 degrees Fahrenheit to 150 degrees Fahrenheit.
Inner: A flexibel stainelss steel inner core for superior strength embedded in the Chlorinated Polyethylene(CPE) synthetic rubber liner

Outer: Constructed with a braided nylon outer shield for abrasion resistance

For use with fuel systems, methanol, oils, lubricants, coolant systems and vacuum application

Minimum temperature -40℃, Maxmium the temperature 150℃
| | | | |
| --- | --- | --- | --- |
| Item | Size | ID | OD |
| BJR0723B-4-M | AN4 | 7/32" 5.4mm | 7/16" 11.2mm |
| BJR0723B-6-M | AN6 | 11/32" 8.7mm | 9/16" 13.8mm |
| BJR0723B-8-M | AN8 | 7/16" 11.1mm | 11/16" 17.1mm |
| BJR0723B-10-M | AN10 | 9/16" 14.2mm | 53/64" 20.8mm |
| BJR0723B-12-M | AN12 | 11/16" 17.4mm | 31/32" 24.4mm |
Application:
Nylon and stainless steel braided CPE fuel hose can be used with transmission fluid, coolant, oil, pump gas, race gas,vacuum, hydraulic fluid, diesel and fuel

Commonly used as transmission oil cooler line, fuel return line, fuel supply line, coolant fluid hose, carburetor fuel hose, turbo cooler line, oil feed line, ls swap fuel line