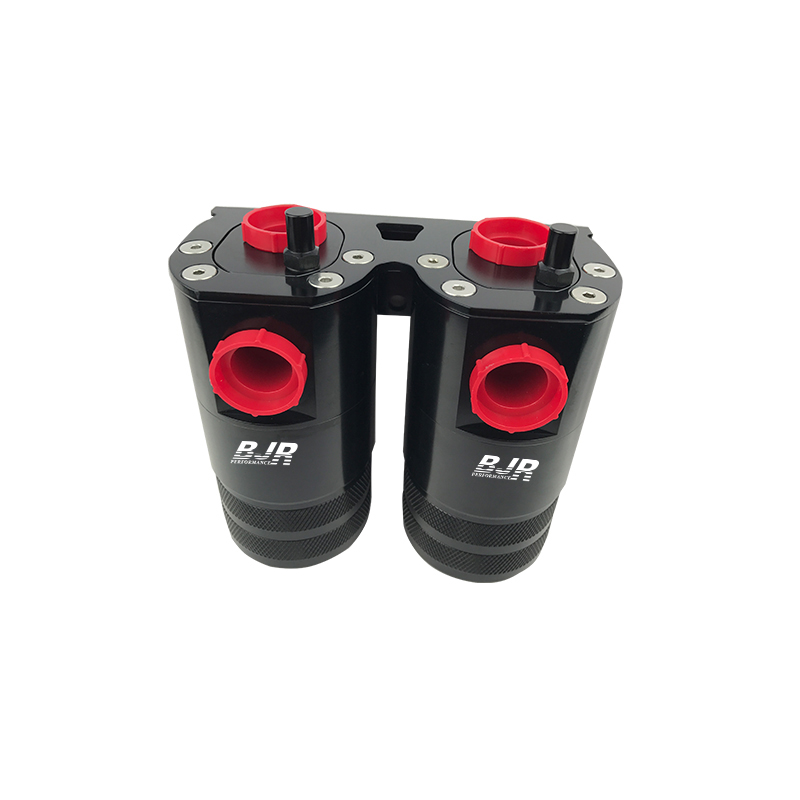 Dual Catch Can
BJR is professional factory, manufacture high precision Catch Can for more than 10 years,we offer best performance parts for your loved modified cars!
| | |
| --- | --- |
| Material: | Aluminum |
| Size: | AN10 |
| Color: | Black |
| Use: | Tuning parts, Oil, Fuel |
BJR Performance Dual Catch Can
The billet universal air / oil separator has been designed to protect your modern diesel & petrol engines by reducing the amount of oil vapour entering the crankcase.
With many modern diesel engines having a EGR system where the combination of oil vapour and exhaust particles build up to the point of blocking the intake manifold and intake ports that is very common in direct injection engines.

It features stainless steel reusable and cleanable filter mesh, a built in billet dipstick, two -10AN ports and one -4AN which can be utilised for a drain.

It comes in the single version or the dual version which is essentially two single catch cans mounted to a one-piece universal mounting bracket. Available in polished or black.

Benefits:
-Effectively raises octane and increases engine performance with cleaner inlet air
-Prevents oil buildup in the intake, intercooler, throttle body, etc.
-Excessive oil collection can be an indicator of a damaged engine
-Lowers hydrocarbon emissions

Features:
-6061 Billet Aluminum O-Ring Sealed Oil Can
-Integrated Oil Separating Condensing
-Stainless Steel Cleanable and Reusable Filter Media
-Main Ports: 7/8"-14 Female Threads (-10AN O-Ring)
-Laser Cut Mounting Bracket with anodized finish
-O-Ring Sealed -4AN Drain Plug
-Stainless Steel Mounting Hardware
-Safe for Pressurized Applications
-Anodized 6061 Billet Aluminum Oil Dipstick

Dimensions:
-Capacity: 8 fluid ounces
-Height (without fittings): 5 inches
-Outside Diameter: 2.45 inches
| | |
| --- | --- |
| Item | Specification |
| BJRDR15101 | AN10 |