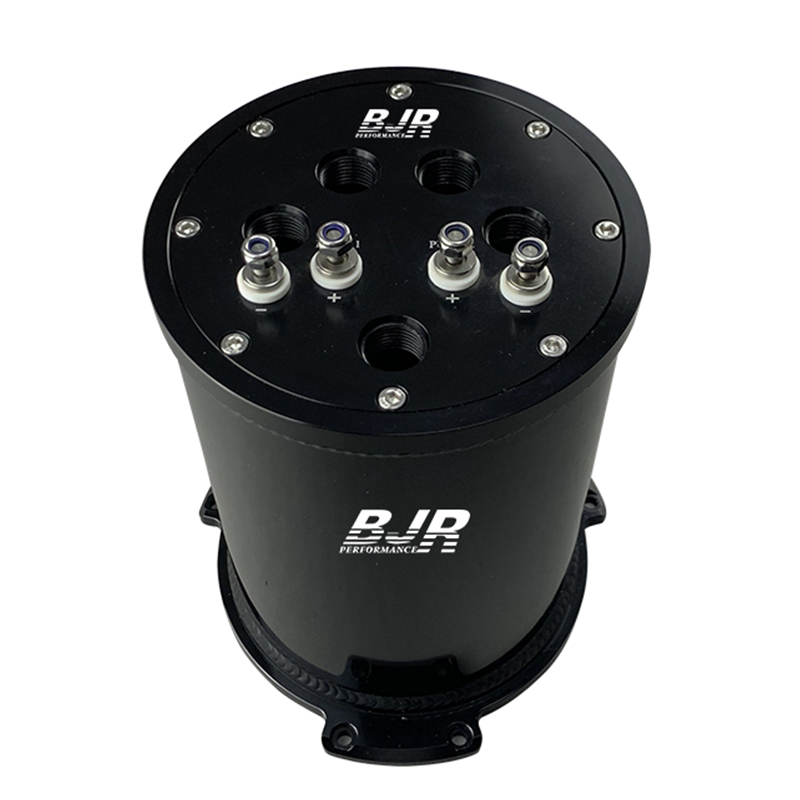 Dual pump surge tank
BJR is professional factory, manufacture high precision Surge Tank for more than 10 years, we offer best performance parts for your loved modified cars!
| | |
| --- | --- |
| Material: | Aluminum |
| Size: | AN8 |
| Color: | Black |
| Use: | Fuel system |
BJR Performance Dual pupm surge tank:
BJR Surge Tank, 225mm high, 195mm width, 195mm depth, black color, it is an important part of any turbo's fuel system as it stops your engine from starving of fuel. A Fuel Surge Tank / Swirl Pot ensures your engine gets the amount of fuel which is needed for high power output. This is important in demanding conditions such as drifting, drag racing and track days.
BJR New Surge Tank Description:
Can be configured with either a single or twin pumps

Dual Stainless Electrical Terminals with Teflon Seals, allowing the pumps to be staged

AN-8 O-Ring Ports

Anodised in Black, providing Corrosion Resistance when used with E85

Viton O-rings supplied with Teflon Intank Hose

2.8L Capacity When Used With a Single Pump

2.6L Capacity When Used With Twin Pumps

Supports AN Hose Ends Up T

o 150Deg
Compatibility List:
EFP-500

EFP-503

EFP-504

Walbro GSS340

Walbro GSS341

Walbro GSS342

Walbro F90000262

Walbro F90000267

Walbro F90000274

Walbro F90000

285
All BJR products are made of high-grade 6061 aluminum alloy. All components are precision machined with precise tolerances for long-term durability and high-performance applications.