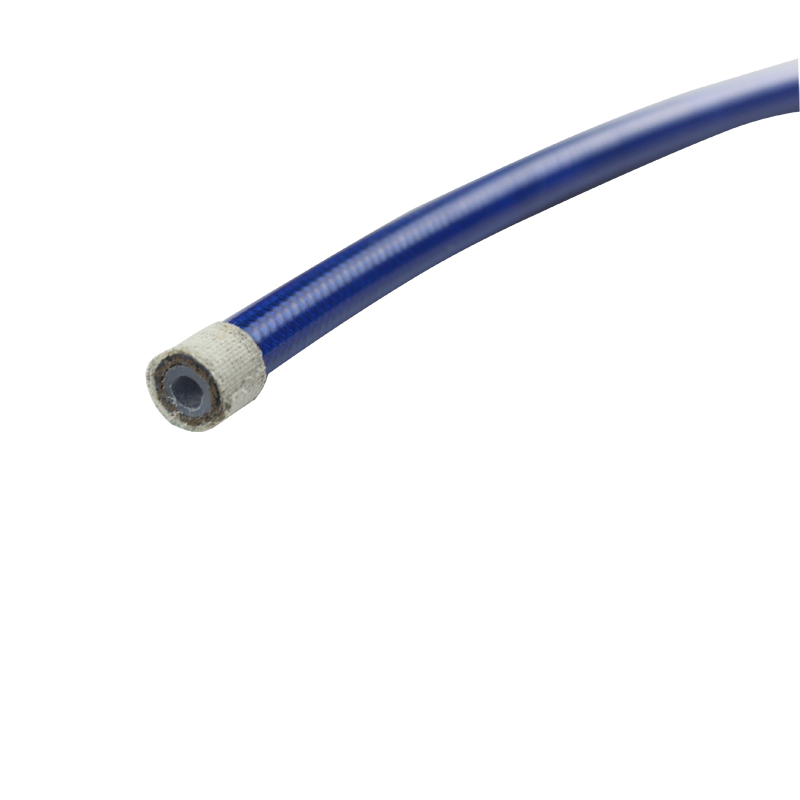 PTFE hose with PVC coat
BJR is professional factory, manufacture high precision hoses for more than 10 years, we offer best performance parts for your loved modified cars!
| | |
| --- | --- |
| Inner Material: | PTFE |
| Outer Material: | PVC |
| Size: | AN3 AN4 AN6 AN8 |
| Temperature: | -70℃ to 250℃ |
| Pressure: | 12000PSI |
| Usage: | For brake system |
BJR Performance PTFE Hose With PVC Coat
BJR Performance is a Manufacturer & Supplier for Racing Parts in China. We produce kinds of fuel hoses in various styles, S.S Braided Hose, Nylon Braided Hose, S.S Braided PTFE Hose, Push Lock Hose.
PTFE hose relatively hard, it can't be bend and folding in half. Professional installation is highly recommended.
When you need abrasion resistance, go with PTFE hose.This hose is good for fuel systems including nitromethane and alcohol.This type of hose resists all types of fluids and chemicals, including gas, ethanol, transmission fluid, brake fluid, power steering fluid and antifreeze. It is good for temperatures from -70 degrees Fahrenheit to 250 degrees Fahrenheit.
Inner: PTFE inner line stainless steel braided, it's durable.
Outer: Stainless steel outer cover for excellent abrasion resistance
Recommended for Brake,E85, Alochol, Nitro, transmission, clutch, nitrous,power steering,
oiling, hydraulic&vaccum application
Minimum temperature -70℃, Maxmium the temperature 250℃
Item

Description

BJR0725B-03-M

AN3

9/64" 3.56mm / 1/4" 6.35mm

BJR0725B-04-M

AN4

3/16" 4.83mm/ 19/64" 7.62mm

BJR0725B-06-M

AN6

21/64" 8.13mm/ 27/64" 10.92mm

BJR0725B-08-M

AN8

27/64" 10.67mm/ 35/64" 13.72mm
Application:
Can be used as fuel injection hose, turbo oil feed and boost line, transmission oil cooler line, EFI fuel line, carb fuel line, ls engine swap fuel line, fuel return line, vapor return line, vacuum line, fuel supply line and other high temperature high pressure applications.

PTFE Lined Hose can be compatible with all automotive fuels, lubricants, and coolant.