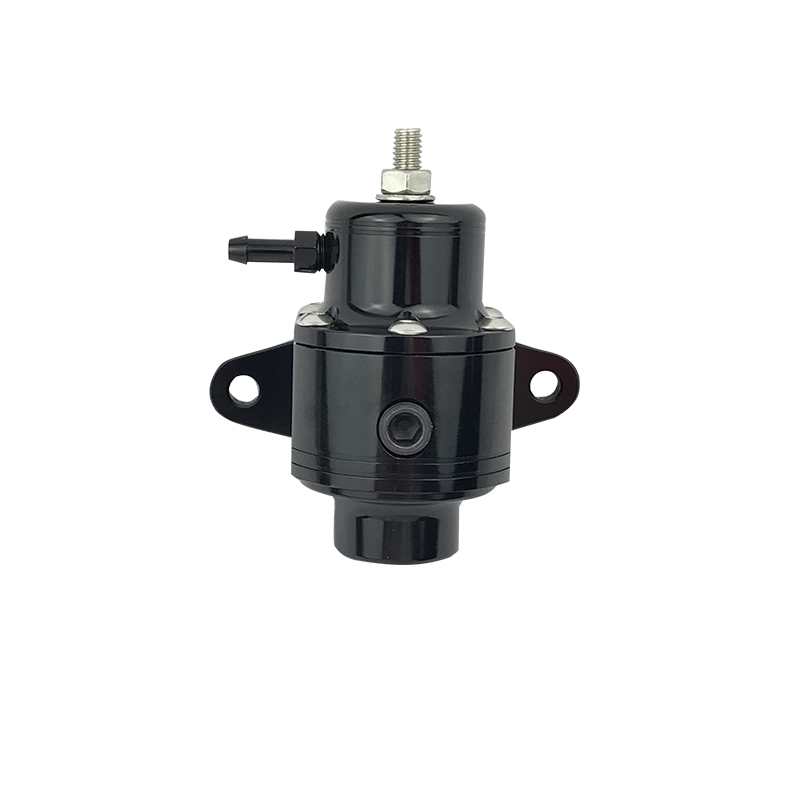 Small Regulator
BJR is professional factory, manufacture high precision Regulator for more than 10 years,we offer best performance parts for your loved modified cars!
| | |
| --- | --- |
| Material: | Aluminum |
| AN Size: | AN6 |
| Color: | Black or as you want |
| Use: | Fuel, Oil, Automotive parts |
BJR Performance Billet 3 Port EFI Pressure Fuel Regulator
BJR's Compact Billet Bypass 3 port EFI regulator is designed for applications producing up to 800hp (596kw) where space is at a premium. BJR EFI pressure fuel regulators are designed to precisely control fuel pressure from the fuel pump to the fuel rail. Each BJR EFI pressure fuel regulator is fully adjustable from 30-90 psi (2-6 BAR) so regulating the fuel pressure to your engines needs is a simple task. BJR Performance EFI pressure fuel regulator features -6 ORB female in/out ports for a perfect O-ring seal.

Made from billet 6061 T6 aluminium these EFI pressure fuel regulators are an ideal upgrade for EFI fuel systems. Ethanol, methanol & unleaded compatible. These EFI pressure fuel regulators have 3 x -6 ORB Ports and also include 1 x 1/8" NPT Port. A mounting bracket is included. This EFI pressure fuel regulator features a vacuum/boost port and fitting in the cap which, if connected to your intake manifold, will reference fuel pressure to manifold pressure. It works on a ratio of 1:1 with PSI, raising fuel pressure with boost and reducing it with vacuum. If unused, please do not block off.

Capable of supporting applications up to 800hp, the BJR Compact EFI Pressure Fuel Regulator can handle high-flow EFI fuel pumps and the most aggressive street machines; especially those looking for a cleaner, lighter solution where performance is critical or where space is a premium. Delivering reliable consistent fuel pressure these EFI pressure fuel regulators represent fantastic quality at a bargain price!
Item

Specification

BJRVP01225

30~100PSI

3xAN6
Specifications:
BJR Compact Billet 800hp Bypass 3 Port EFI Pressure Fuel Regulator

Adjustable from 30-90 psi (2-6 BAR)

Provides 2 x -6 ORB side ports and 1 x -6 ORB bottom/inlet port

1/8" NPT Gauge port to allow easy installation of a fuel pressure gauge

Vacuum / boost port

Ethanol, E85, methanol and alcohol compatible

Suitable for automotive applications only

CNC-Machined 6061-T6 billet aluminium construction

Anodized stealth black finish