90° One Piece Swivel Hose End
90° One Piece Swivel Hose End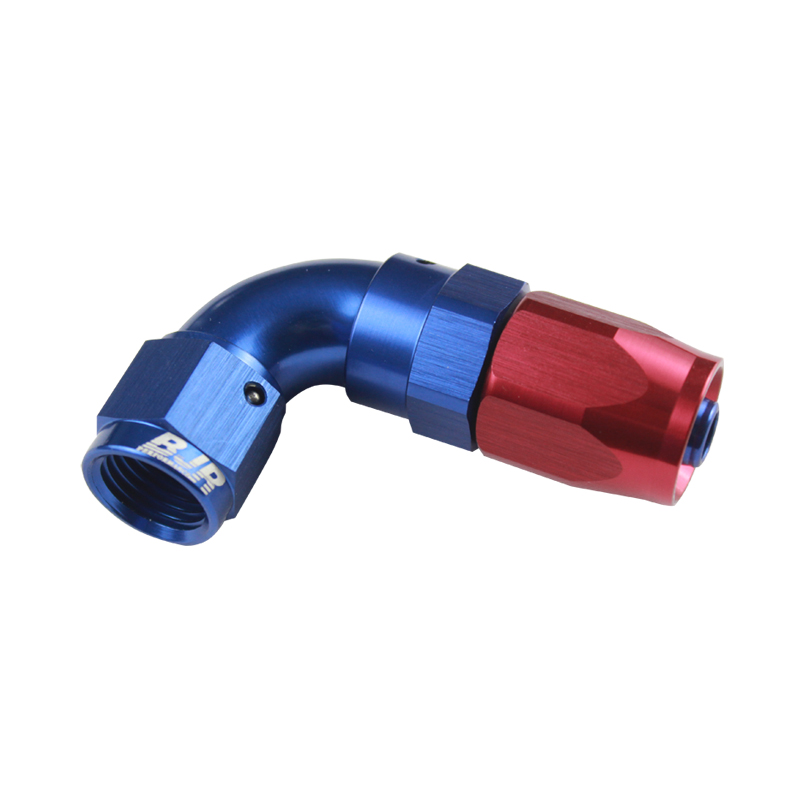 90° One Piece Swivel Hose End
BJR is professional factory, manufacture high precision fittings for more than 10 years, we offer best performance parts for your loved modified cars!
| | |
| --- | --- |
| Angle: | 0° 30° 45° 90° 120° 150° 180° |
| Color: | Black | Red&Blue | Purple | Green etc |
| Size: | AN4 to AN20 |
| Custom Made: | Logo | Package |
| Material: | 6061-T6 aluminum |
BJR Performance 90° One Piece Swivel Hose End
BJR Performance is a Manufacturer & Supplier for Racing Parts in China. We produce kinds of hose ends in various styles, Swivel Fittings, Full Flow Swivel Fittings, Cutter Fittings, Full Flow Cutter Fittings, Push Lock Fittings, Full Flow Push Lock Fittings, PTFE Fittings, Full Flow PTFE Fittings, Forged Fittings and Crimp Fittings.
BJR's Full Flow Swivel Hose Ends swivel 360° to maximize hose installation allowing for quick alignment of ends after hose assembly. These Full flow swivel hose ends are completely re-usable and feature a unique taper design for ease of installation. Full Flow Swivel hose ends use mandrel bent tubing for superior flow and are available in three different finishes.
All BJR fittings are machined from lightweight 6061-T6 aluminum and MilSpec Type anodized in black for durability.
Item

Specifications

Hose Match

BJROS0090-04

AN4

90°

BJR0721-04/BJR0723-04

BJROS0090-06

AN6

90°

BJR0721-06/BJR0723-06

BJROS0090-08

AN8

90°

BJR0721-08/BJR0723-08

BJROS0090-10

AN10

90°

BJR0721-10/BJR0723-10

BJROS0090-12

AN12

90°

BJR0721-12/BJR0723-12

BJROS0090-16

AN16

90°

BJR0721-16/BJR0723-16
Features and Benefits:
CNC machined one piece fitting provides uninterrupted flow

Large mandrel bent radius body provides superior flow in the critical radius area.

Increased radius wall thickness for extra strength

360° swivel head for easy hose alignment.

Unique left-hand threaded socket

Reusable

Easy to assemble

Lightweight 6061-T6 aluminum construction

MilSpec Type black anodized for durability

Lifetime manufacturer's warranty
Application:
Widely used in oil/ fuel/ water/ fluid/ airline etc. Connect oil gas line, braided fuel line ,clutch hose,turbo line etc

BJR swivel fitting is work with nylon braided fuel hose . They are not compatible with PTFE hose